The new season of doramas have started in Japan and being the TV junkie that I am, here is a blog post dedicated to the doramas that I am keeping my eyes peeled for this winter!
1. LADY ~Saigo no Hanzai Profile~
Starring Kitagawa Keiko
Broadcast Network: TBS
Airtime: Friday 10pm
Start Date: 7 Jan 2011
Exciting suspense thriller drama! Kitagawa Keiko stars as the gifted criminal profiler who uses her intelligence to crack mysteries, while getting involved in lots of danger!
I watched the first episode and was freaked out! The first episode was about a serial killer who breaks into homes and brutally kills the entire family (except little boys, there's a long story behind it). I got all paranoid and went around my apartment to check if the door and windows were locked properly. Didn't sleep well that night.
2. Gou ~ Himetachi no Sengoku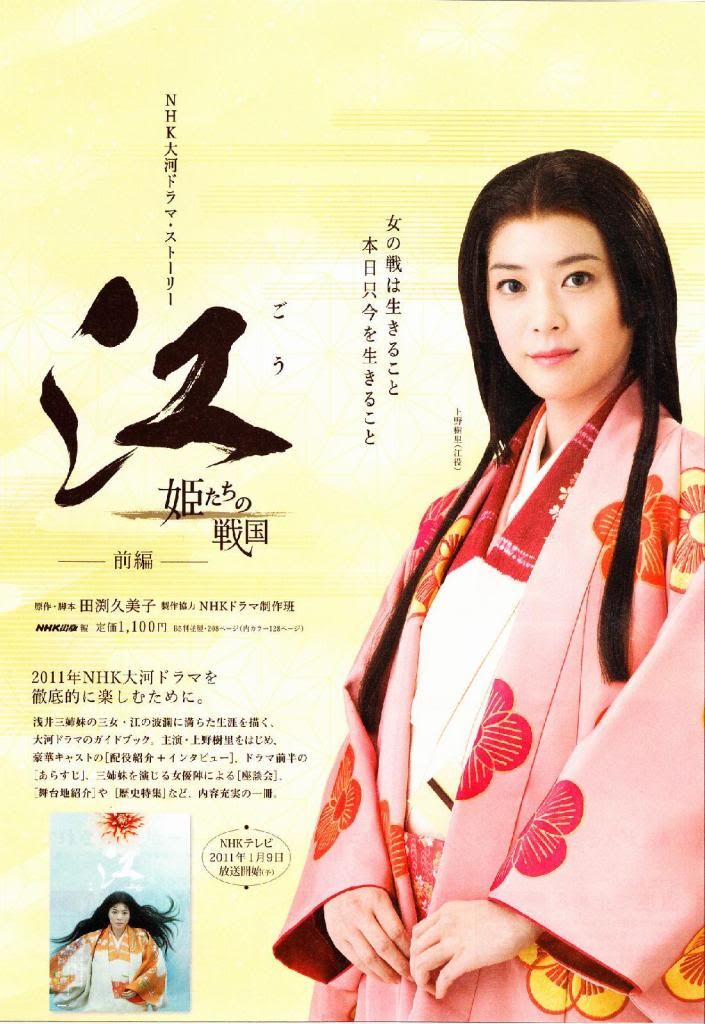 Starring Ueno Juri (Nodame!), Miyazawa Rie, Mizukawa Asami, MUKAI OSAMU.
Broadcast Network: NHK
Airtime: Sunday 8pm
Start Date: 9th Jan 2011
Each year, NHK produces a big-scaled Taiga dorama (historical drama). The Taiga doramas in the recent years should be more familiar to the younger audience, as NHK got popular actors and actresses to star in them. For example, Fukuyama Masaharu in Ryoma Den, Tsumabuki Satoshi in Tenchijin and Miyazaki Aoi in Atsu-Hime. A Taiga dorama usually runs for the entire year, and is a major player in the dorama scene.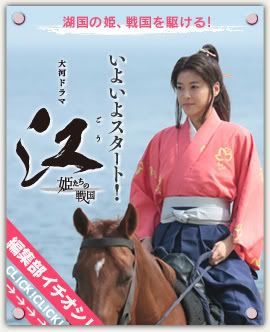 Look how cute Nodame is on a horse!
3. Control ~Hanzai Shinri Sousa
CONTROL~犯罪心理捜査~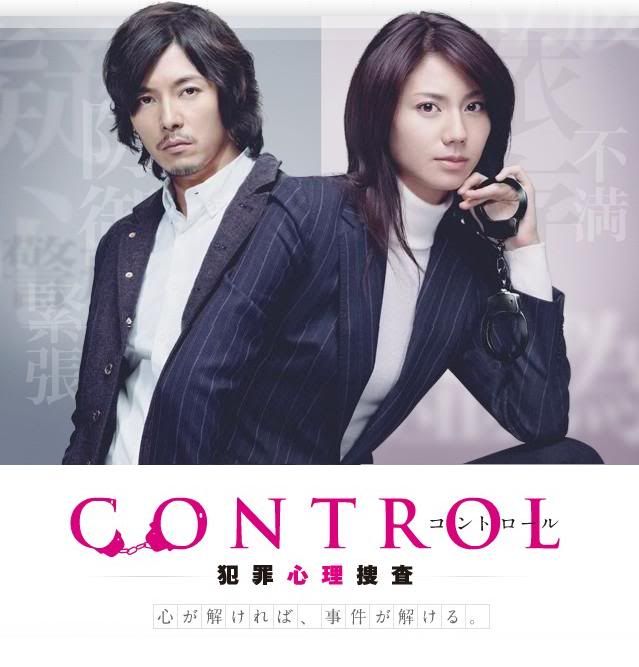 Starring Matsushita Nao and Fujiki Naohito
Broadcast Channel: Fuji TV
Airtime: Tuesday 9pm
Start Date: 11 Jan 2011
Yet another crime/mysteries/police/suspense dorama. But I love thrillers, even though they make me lose sleep at night, so I will keep a look out for this one. Matsushita Nao returns from Gegege no Nyoubou as a hot-headed detective who solves crimes. Quite interesting, as the dorama explores the minds of criminals through a psychological aspect.
4. Utskushii Rinjin
美しい隣人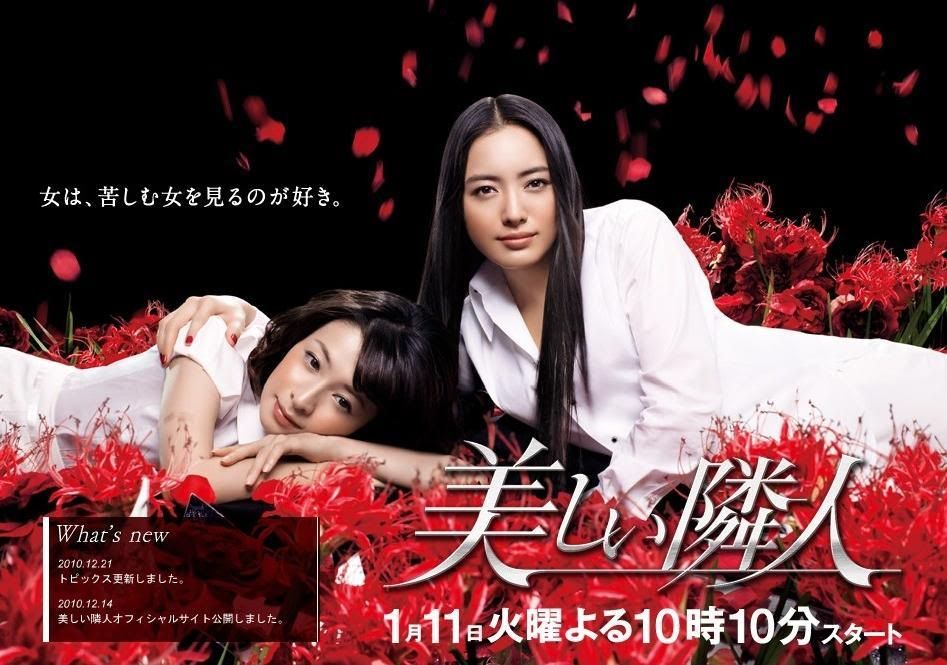 Starring Nakama Yukie and Dan Rei
Broadcast Channel: Fuji TV
Airtime: Tuesday 10pm
Start Date: 11 Jan 2011
Nakama Yukie in a suspense thriller! I must follow this! I have always liked Nakama Yukie, she is so pretty and has superb acting skills. In this drama, she plays a sinisterly beautiful new neighbour to housewife Dan Rei. She has a dark secret and has some evil plans for revenge or something. Great first epi!
美咲ナンバーワン!!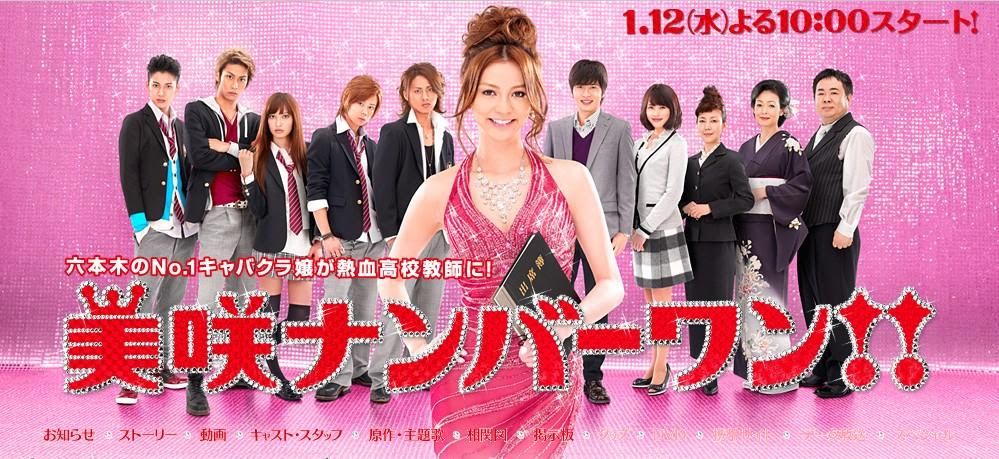 Starring Karina and Oomasa Aya (ex-Seventeen model)
Broadcast Channel: NTV
Airtime: Wednesday 10pm
Start Date: 12 Jan 2011
YET another high school dorama involving a young, hot-blooded teacher who meets a bunch of delinquents and eventually wins their respect and motivates them to study hard. Haven't we heard this plot before, like, oh I don't know, maybe A MILLION TIMES?????????
But! There is a selling point! The teacher (played by Karina) is...wait for it, wait for it.............
A BAR HOSTESS!
How far-fetched is that!!!! I watched the first episode and it was kinda boring. Same old plot reused over and over again. Young, unconventional teacher posted to a school and got the worst class, students refused to go to her class, students got into trouble with gangster, teacher got them out of trouble with her unconventional ways, teacher vows to 'change' the students and get them back to class, blah blah blah.
6. Diplomat Kuroda Kousaku
外交官・黒田康作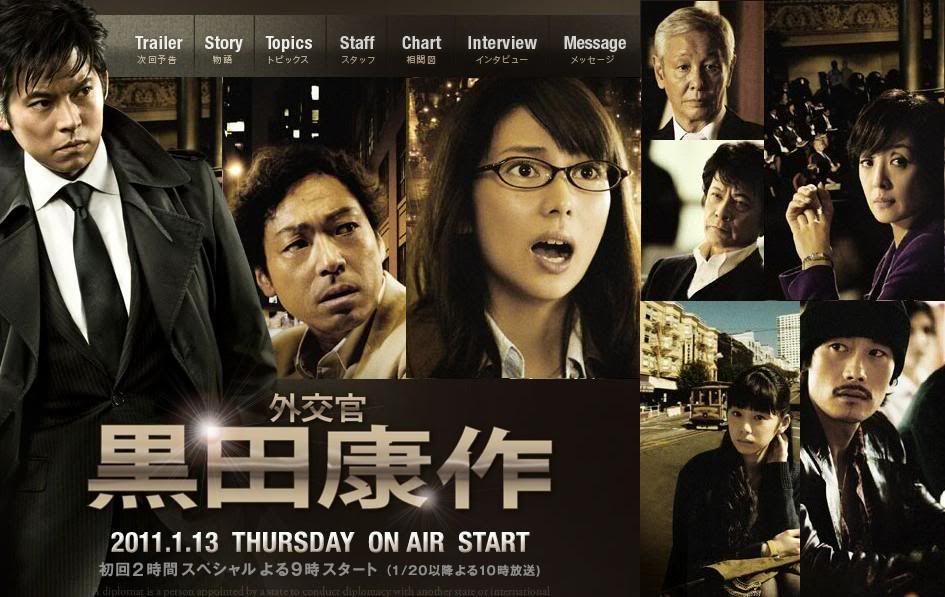 Starring Oda Yuji and Shibasaki Kou
Broadcast Channel: Fuji TV
Airtime: Thursday 9pm
Start Date: 13 Jan 2011
Oda Yuji is SO old now! I remember him looking very young and handsome in his Tokyo Love Story days. In this thriller, he plays a diplomat fighting against terrorism. The drama is a sequel to a hit movie from last year and promised to be good.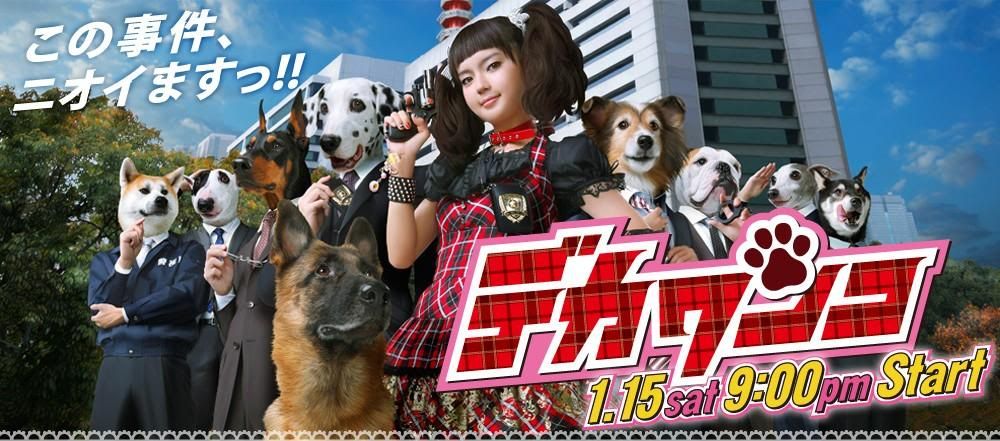 Starring Tabe Mikako
Broadcast Channel: NTV
Airtime: Saturday 9pm
Start Date: 15 Jan 2011
Tabe Mikako plays a Goth-loli (!) police detective (!!) with a keen sense of smell like a dog's (!!!). Sounds like a fun, brainless show to watch!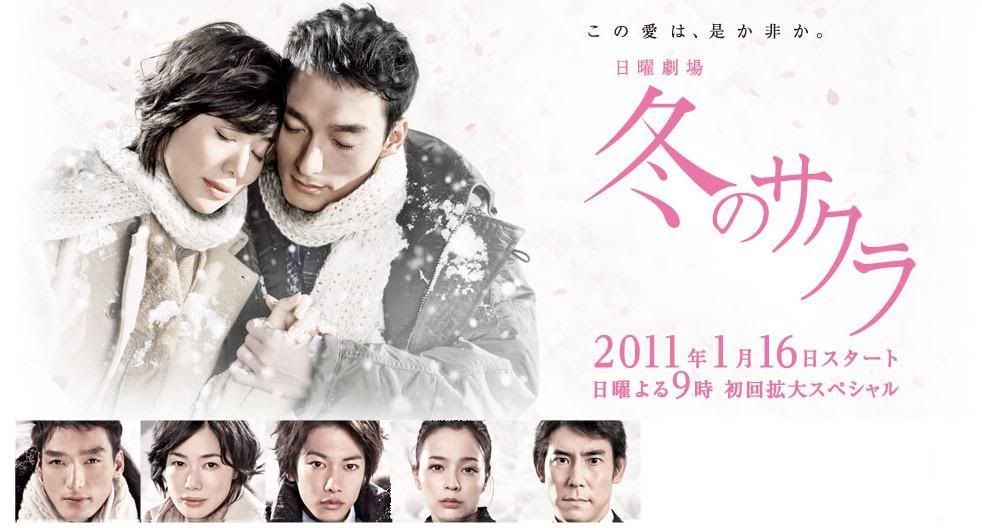 Starring Kusanagi Tsuyoshi, Ima Miki, Sato Takeru and Kato Rosa
Broadcast Channel: TBS
Airtime: Sunday 9pm
Start Date: 16 Jan 2011
It is amazing how actors and actresses who are over the hill can still star in idol doramas, AND pull it off! This drama is the Japanese version of popular Korean drama Winter Sonata, and promises to be a tear-jerker.
9. School!!
スクール!!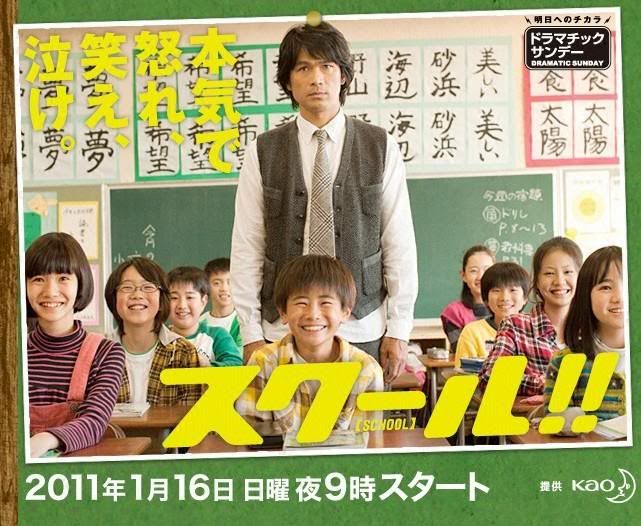 Starring good old Eguchi Yosuke
Broadcast Channel: Fuji TV
Airtime: Sunday 9pm
Start Date: 16 Jan 2011
Construction worker becomes Principal of an elementary school and saves school from closing down! I don't know what else to say!
10. Taisetsu na Koto wa Subete Kimi ga Oshiete Kureta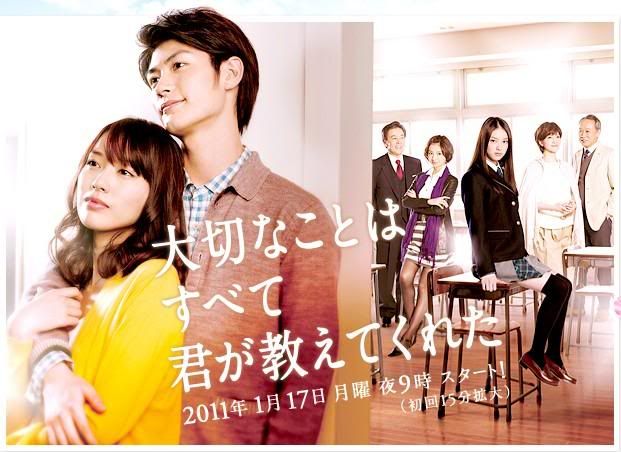 Starring Miura Haruma and Toda Erika
Broadcast Channel: Fuji TV
Airtime: Monday 9pm
Start Date: 17 Jan 2011
I keep seeing Miura's face everywhere! In this drama set in a high school, he and Toda Erika (who is getting prettier with age) play two teachers working in the same school and setting to get married soon. But one day, Miura wakes up with another girl in his bed. And as he walks into his new class of the year, he discovers that the girl is one of his students! Scandalous!

Starring Aiba Masaki (Arashi)
Broadcast Channel: TV Asahi
Airtime: Friday 11.15pm
Start Date: 4th Feb 2011
Aiba-chan plays a genius bartender who seeks to create the Perfect Cocktail to heal people's hearts. I can't help but snort a bit when I read the synopsis.
So there! 10 of the more anticipated dramas of the season!